Purchasing and preparation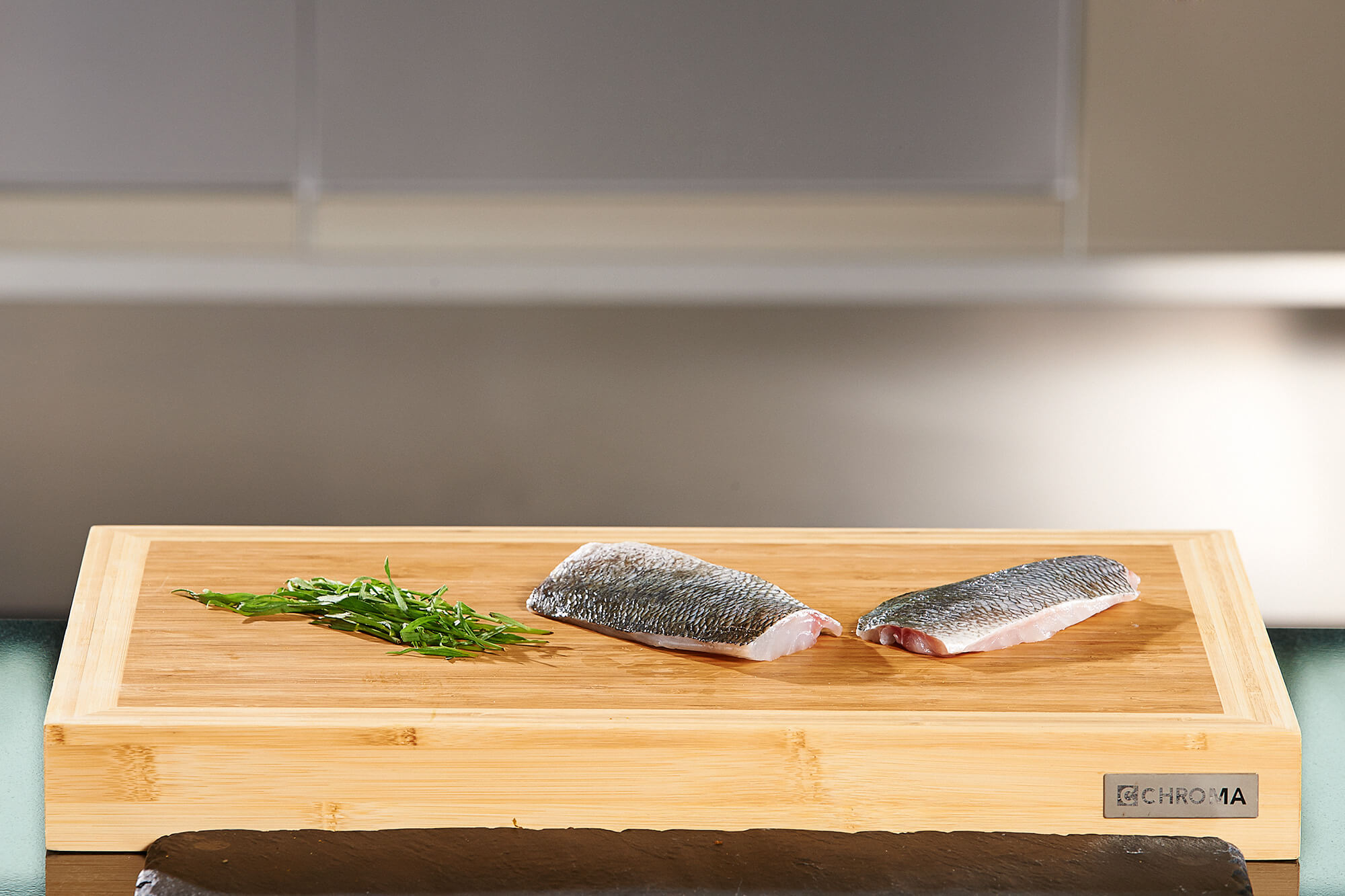 When working with sous vide, the same rule applies as elsewhere; high quality ingredients naturally create a better result than more average quality produce. Therefore always ensure the freshness and quality of raw products. Hygiene is very important in the food industry, so always work in a clean environment and follow the appropriate guidelines in accordance with the HACCP concept and local regulations.
Seasoning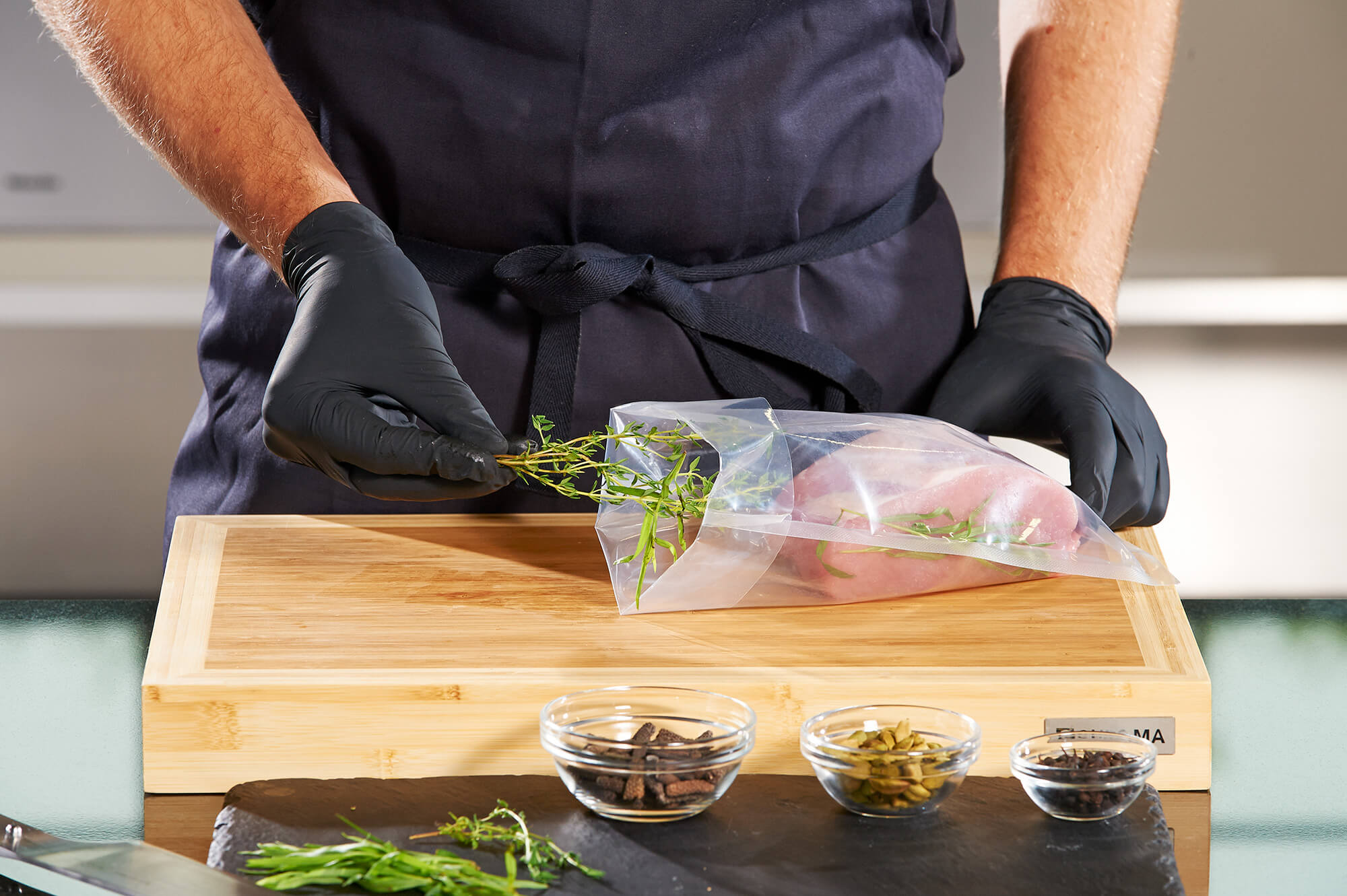 When cooking with sous vide, a little caution is advised when it comes to the amount of spices usually used. Aromas develop more strongly with sous vide cooking, in particular salt and herbs, which means that you should use them more sparingly than usual and gradually work up to the right dosage. Salt, for example, draws fluid from food and fresh garlic generates a stronger flavor. If in doubt, it's better to use a little less seasoning as it is always possible to add more later. It's difficult to go the other way though; it's well known that an over-salted dish can't be saved. In general, however, when spices and herbs are used in the vacuum cooking process, it creates incomparable flavor pairing.
Vacuuming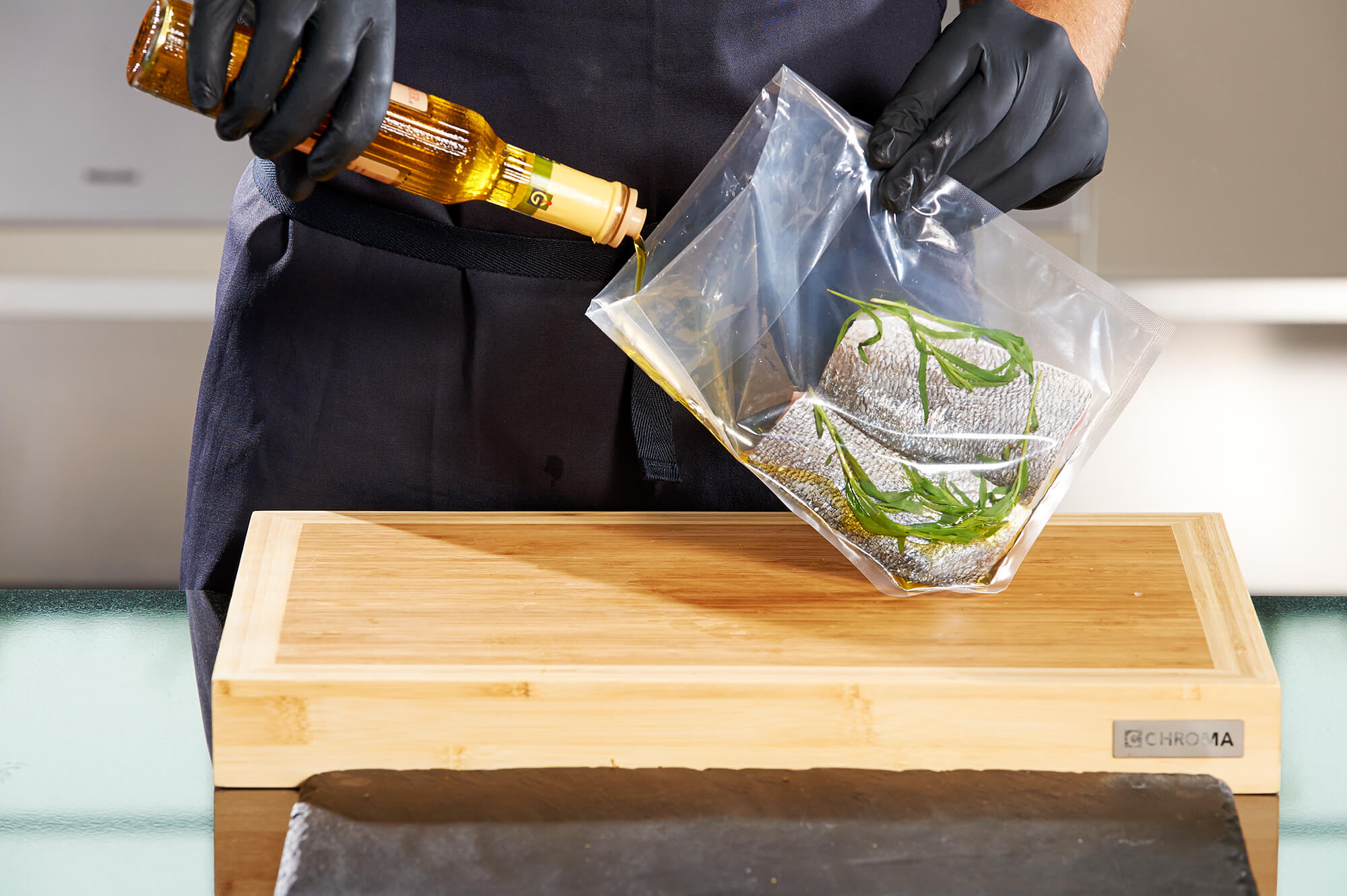 Place the raw ingredients in a vacuum bag that is sufficiently large and vacuum pack them. With pressure-sensitive ingredients, the vacuum should not be set too strong, so that the shape and texture of the food is not affected. With marinated meat or food with a lot of fluid external vacuum sealers run the risk of sucking in the fluid. In this case, the vacuuming process needs to be done carefully and stopped promptly before fluid is pulled into the area of the sealing bar. An accessory that can help are special, absorbent inserts for vacuum bags that – at least to some extent – prevent this.
Fluids in the area of the sealing seam can easily lead to problems and leakage. In cases of doubt it, can be better to carry out a second sealing procedure if the vacuum sealer only creates a single sealing seam. With moist food, these types of problems can be avoided by simply folding the open edge of the bag outwards before filling.
The first choice, however, is clearly a chamber vacuum sealer such as one from Henkelman, especially if you often work with very moist food, marinades, sauces or other liquids, as these units generally have no problems at all working with fluids.
The sous vide cooking process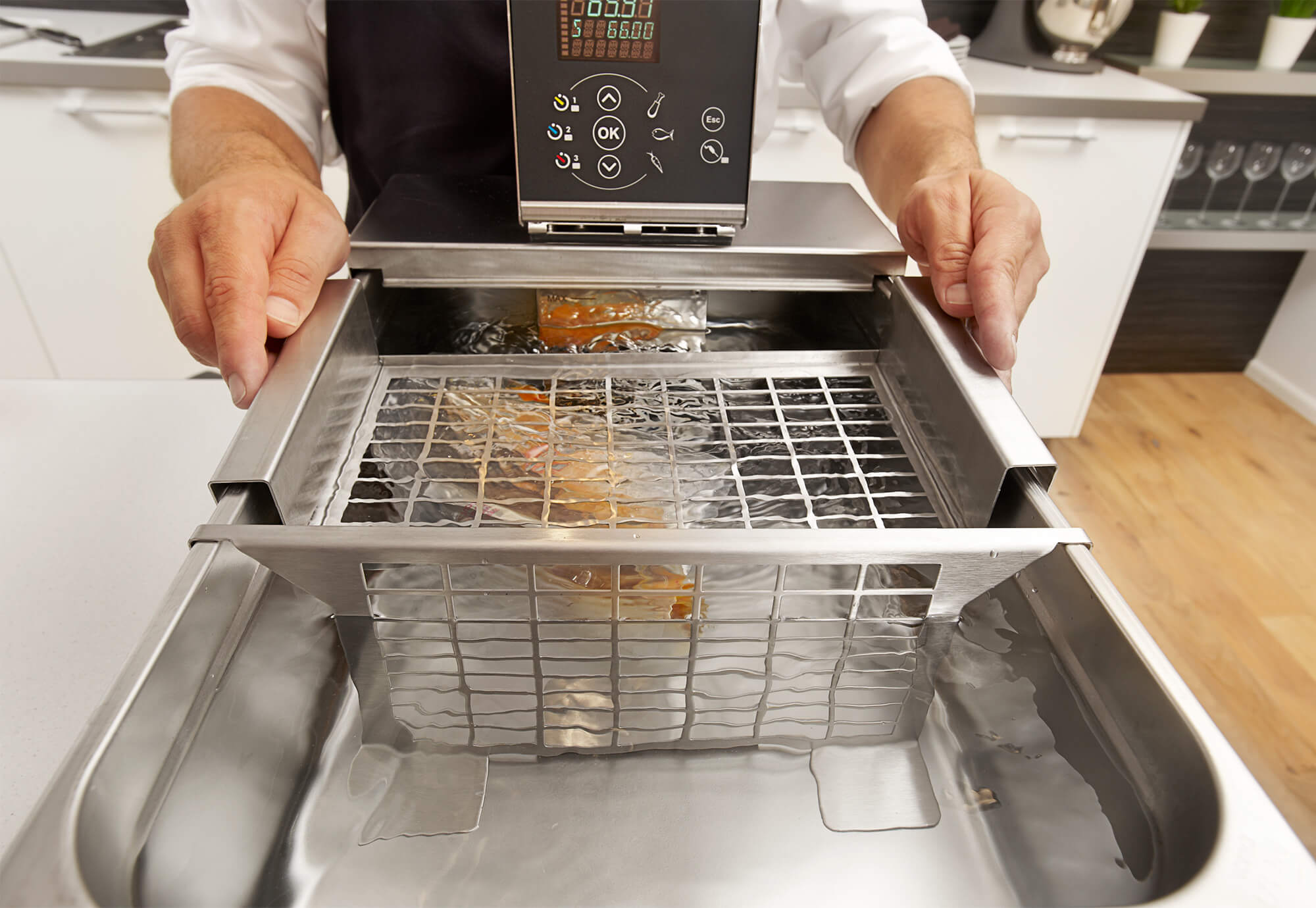 Before placing food in the water bath, the water should have completely reached the set cooking temperature. The heat-up time can be shortened by filling the bath with warm water. Lightweight food often tends to float on the surface of the water. This is naturally not desirable as only complete contact with the heat-carrying water leads to optimal results. The accessory range from fusionchef offers the optimal solution in the form of matching retaining grids, that prevent food floating in the most simple possible way.
The fusionchef separation grids can also be helpful as they make it possible to prepare food in various vacuum bags at the same time in the same water temperature but using different cooking times. A separation grid lets the bags be clearly separated so that each bag has its own area in the water bath.
If, when starting out, you don't have any experience of suitable temperatures and cooking times this is no problem, simply refer to a sous vide cooking chart.
The fusionchef recipe database also has a wide variety of suggestions for delicious meals, including the associated temperatures and cooking times.
Pre-cooking and storage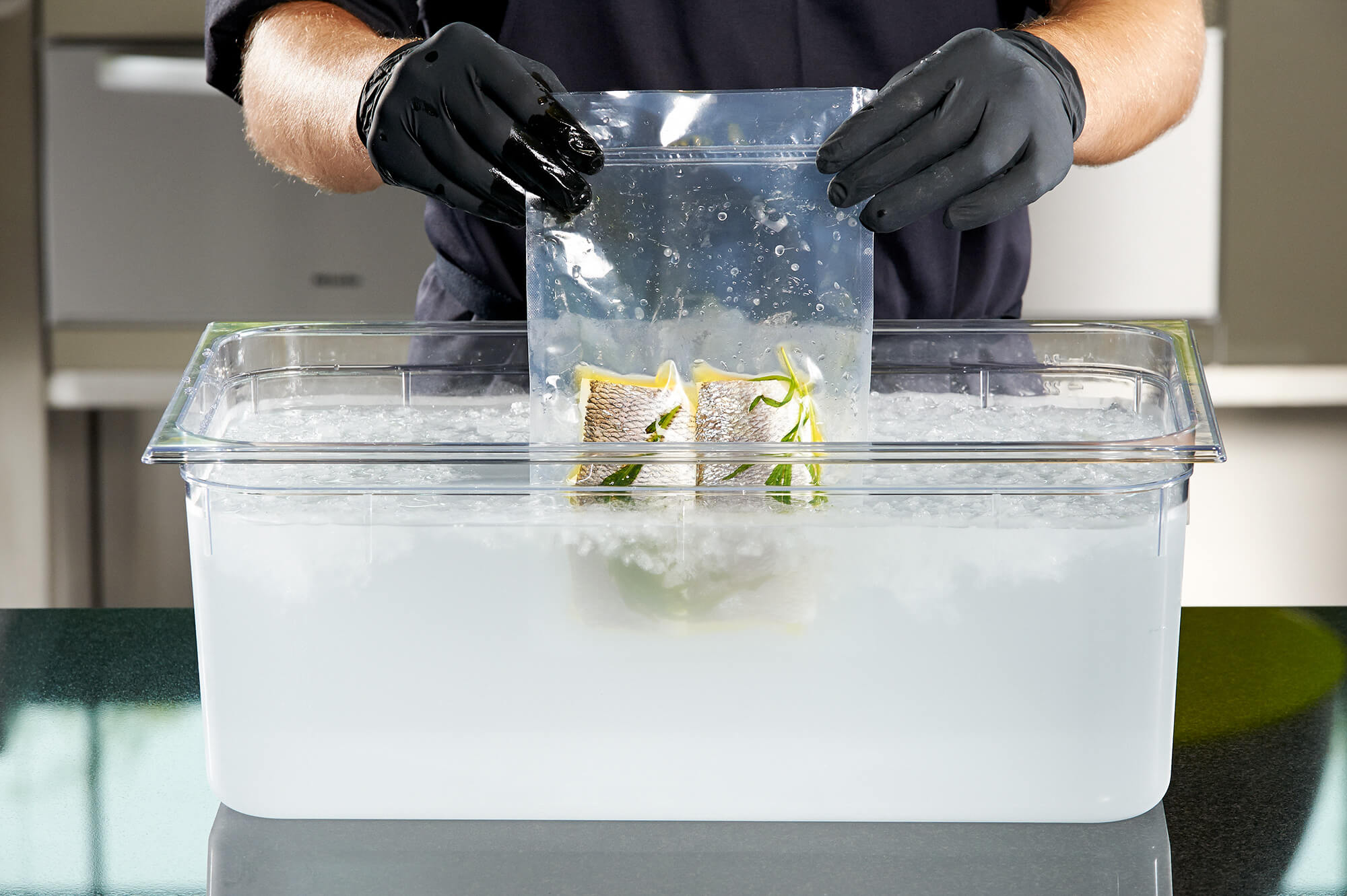 Sous vide cooked food doesn't need to be used immediately, it can be pre-cooked then stored appropriately before simply being regenerated when needed – making the process extremely practical.
Depending on the intended storage time, the dishes can either be stored in a refrigerator or freezer. What is, however, always important is that it reaches a temperature of +2 °C within 90 minutes, to prevent loss of quality and ensure hygienically safe food. The cooling or freezing process is best carried out with a blast chiller or freezer, or, as an alternative, the bags can be placed in ice water and, after cooling down to a maximum of +2 °C can be stored or frozen. Don't forget: The bag should always be marked with the contents, core temperature, cooking time, production and use by date, then used in accordance with the "First in – first out" principle.
Regeneration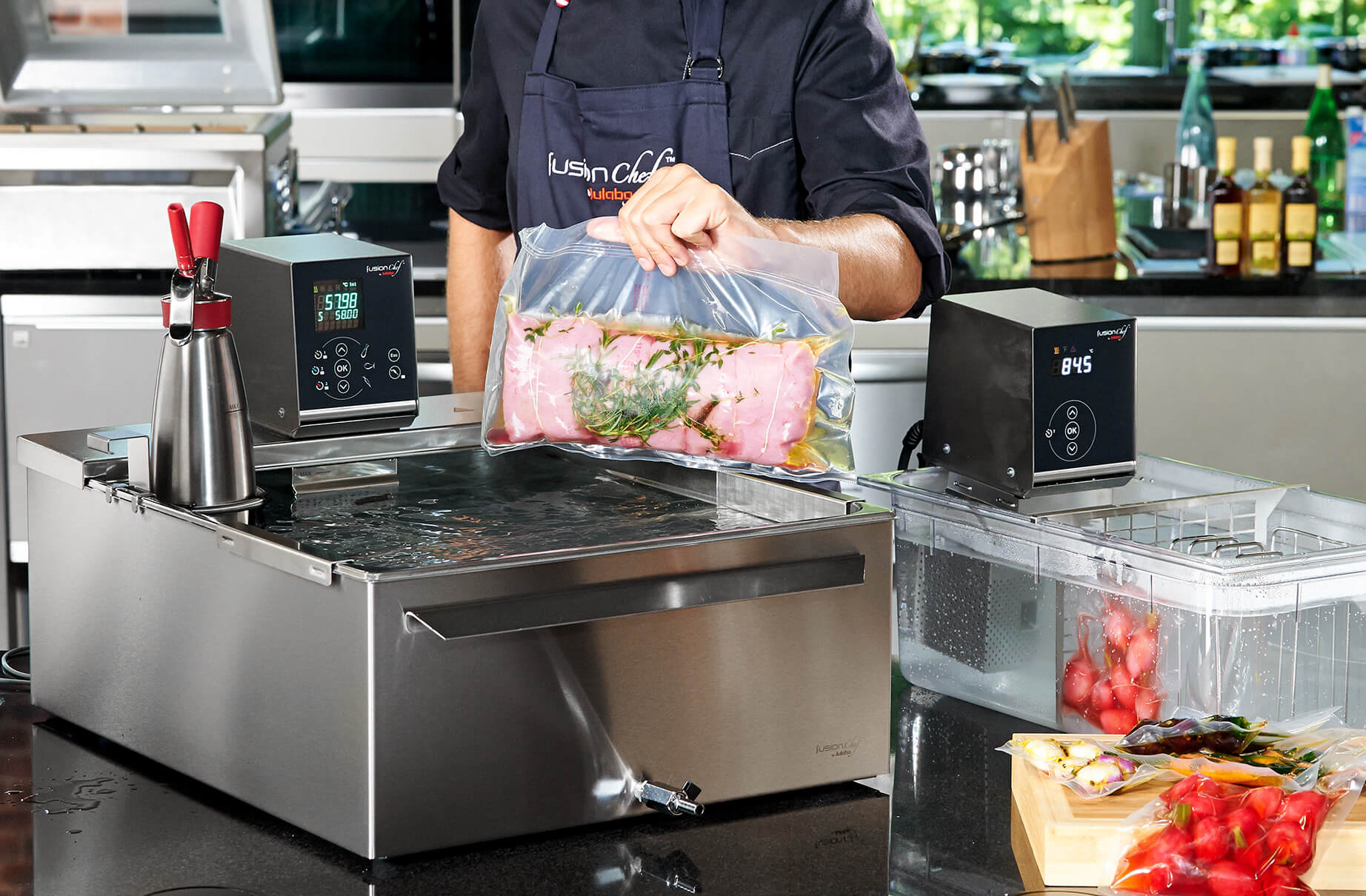 The pre-cooked food can then be easily regenerated in the sous vide cooker. To do this, simple place the cooled bag in the water bath and warm it up to the original cooking temperature. Frozen food should be defrosted first. Important: Always observe the maximum storage periods and general hygiene regulations.
Browning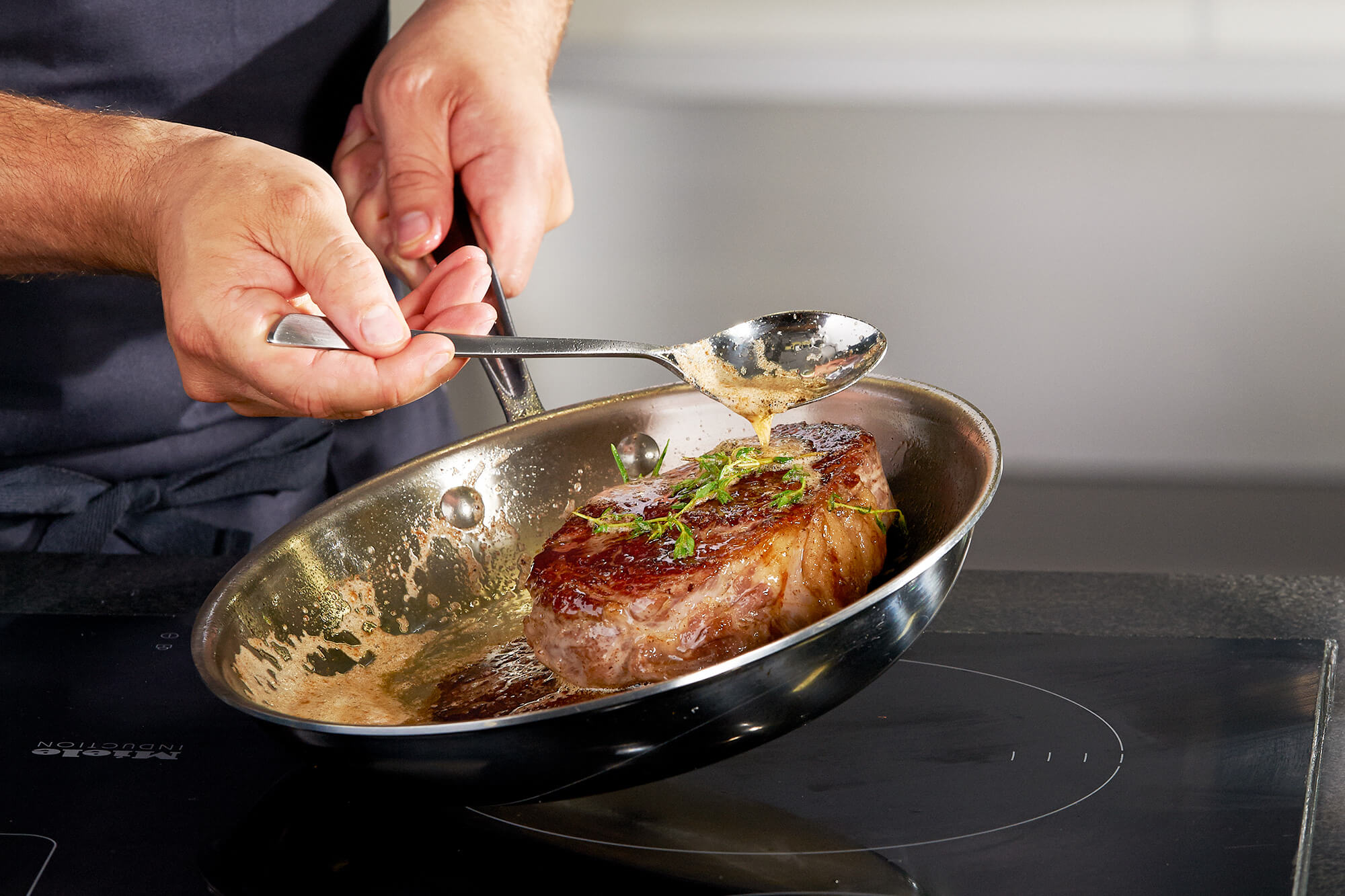 In particular with meat and fish there is often a desire for browning so that food can be served with a nice crust and corresponding roast aromas. To achieve this, the dishes are briefly browned before serving. This can be achieved in a pan, on the grill, with a flambé burner or also with a special high-temperature grill such as the Beefer.
Don't be worried about turning the heat up a little here, as the food has already been cooked perfectly and doesn't need to cook any more, simply "just" develop some roast aromas. This means that short and hot delivers the best results. Very important: Never turn meat with a meat or grill fork, as the piercing causes valuable meat juice to run out, decreasing the juiciness and leading to dryness. It's better to use a spatula or grill tongs to turn the meat.