Which sous vide cooker is the right one?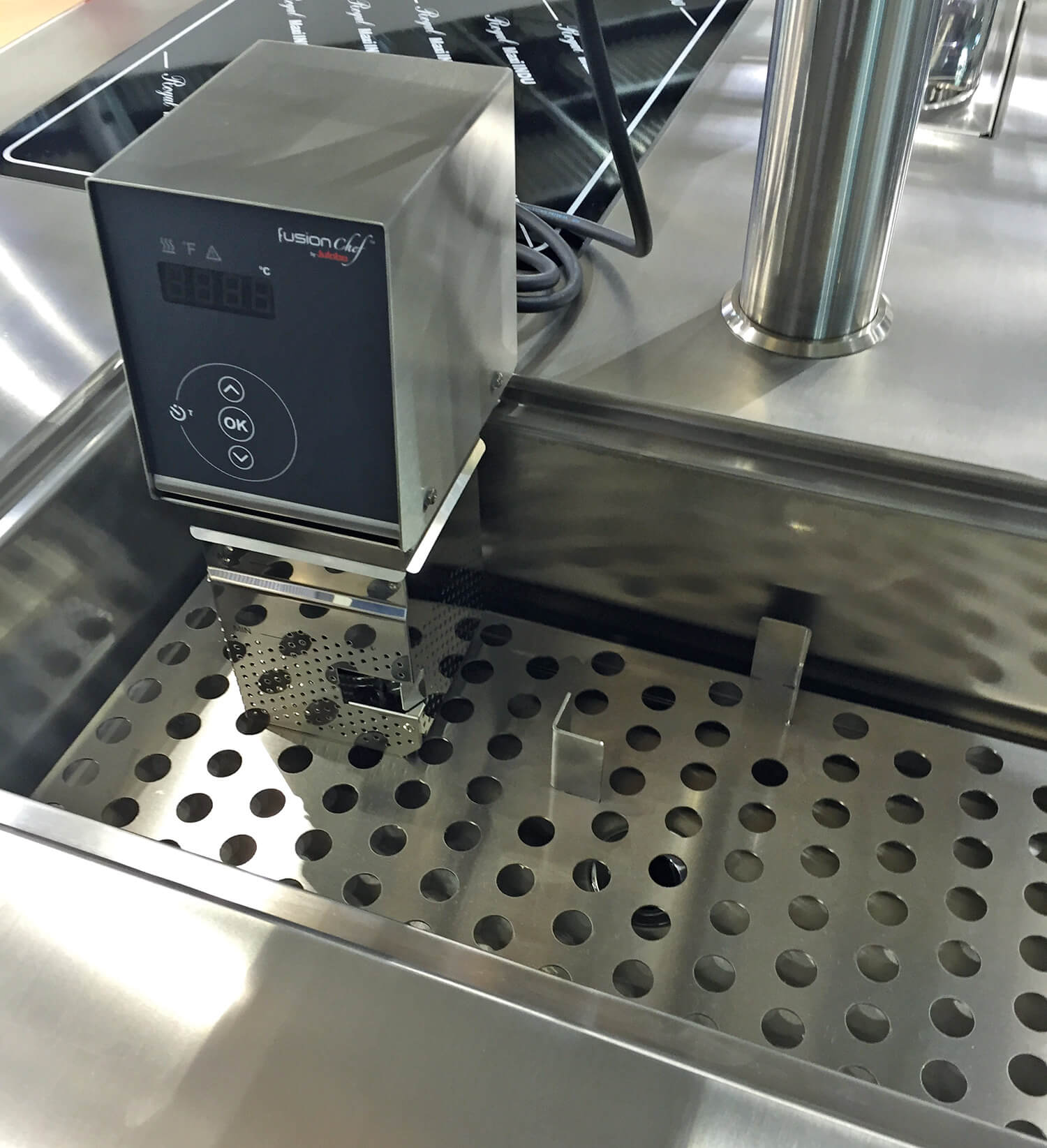 fusionchef offers seven different models in each of the Pearl and Diamond series, to suit as many intended uses as possible. For mobile use, for example for caterers, the versions designed as classic heating immersion circulators fit the requirements. The advantage: These devices are very compact and easy to transport, for example in the protective matching soft travel case or the travel case. A mounting bracket on the back means that they can be used universally in any suitable bath tank. This is particularly practical if flexibility of use plays an important role, in other words alternating and needs-based use with water baths of varying sizes. This can also be very useful when it comes to stationary use.
The Pearl # 9FT1000, in this case mounted in the corner profile of a water bath in a kitchen block. Many kitchen equipment companies could offer this type of customer-specific solution. The high heating capacity of fusionchef devices make water baths with large volumes possible. In this way, for example volumes of 100 liters (or even more) are no problem.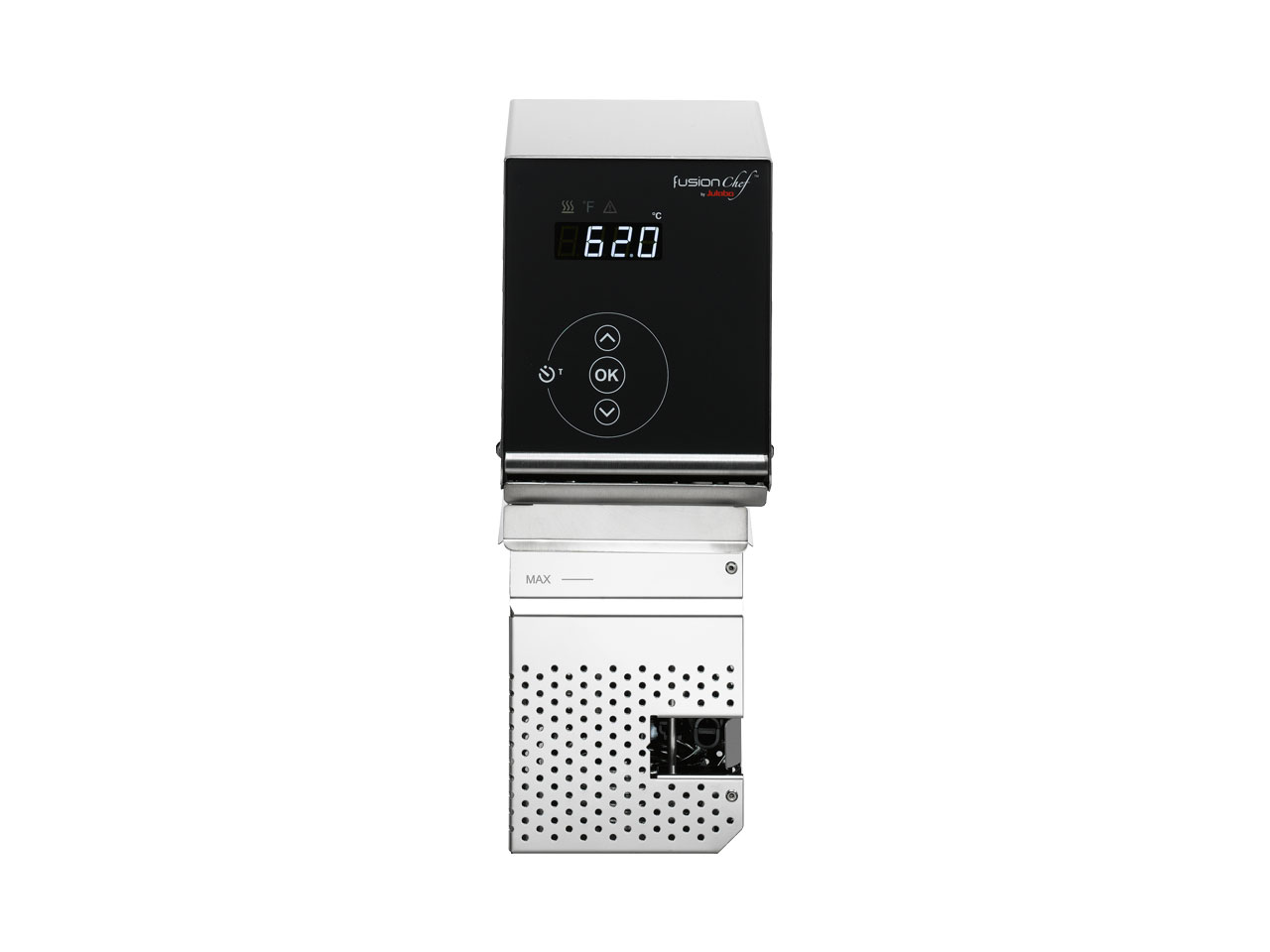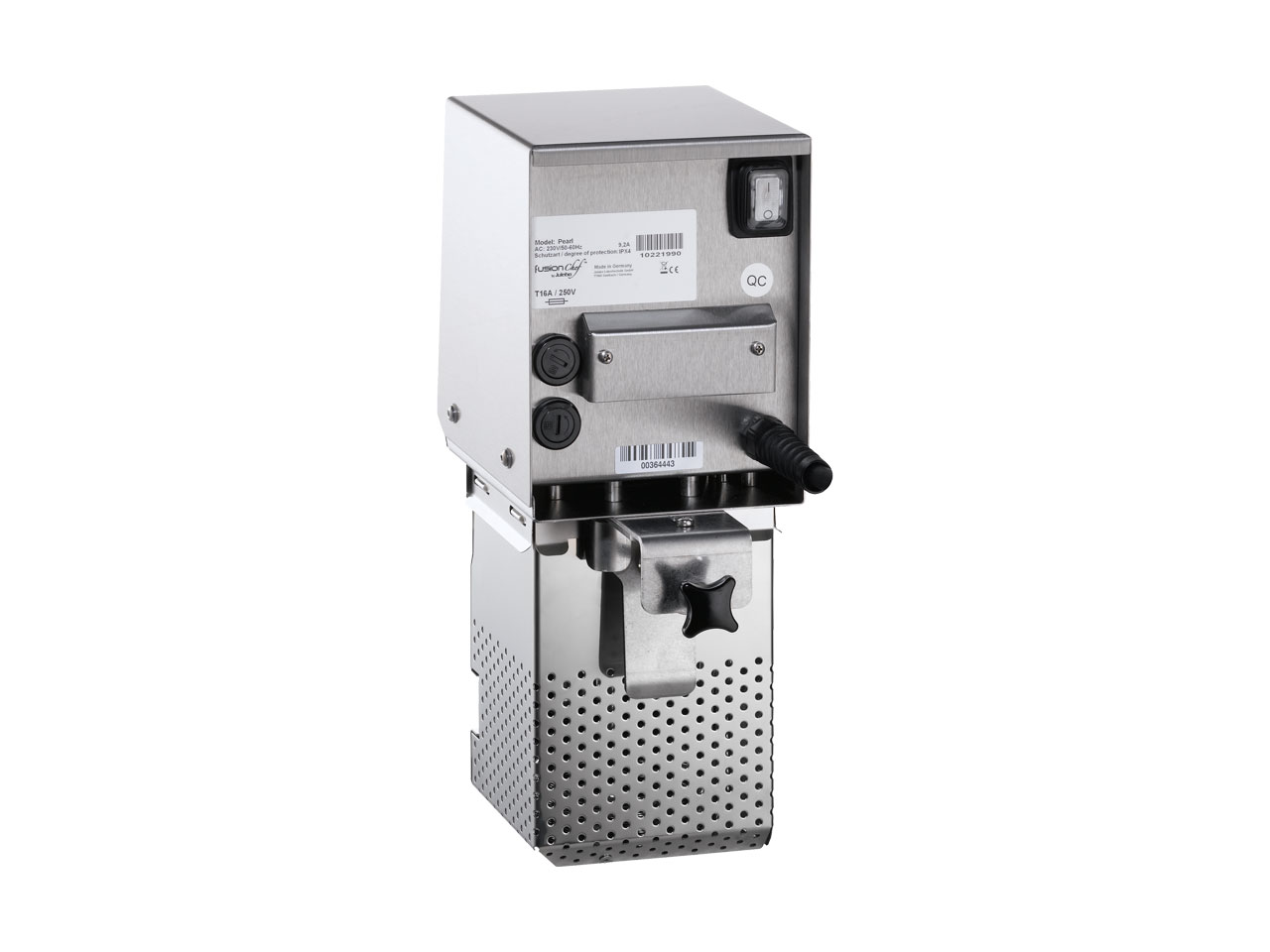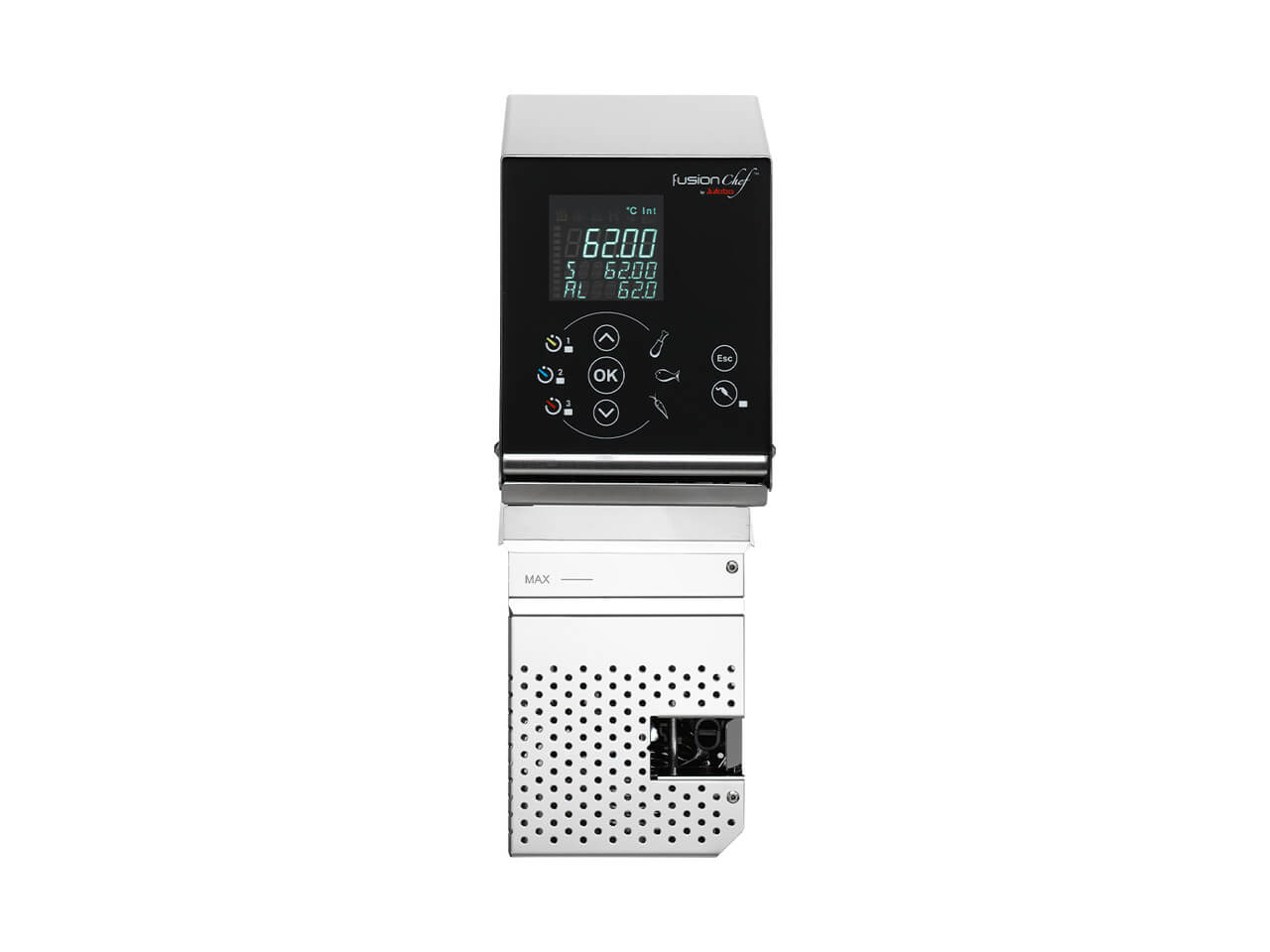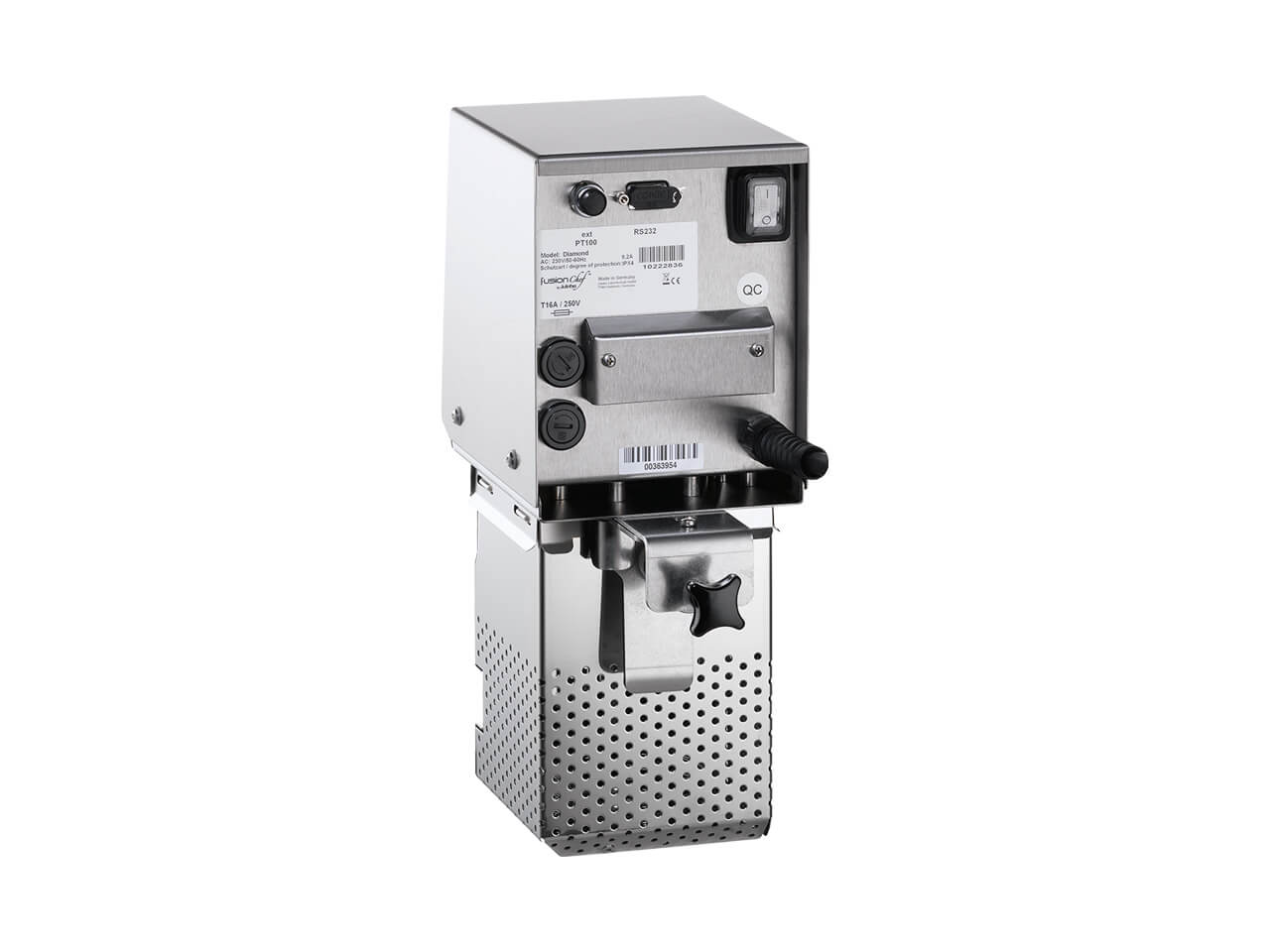 ---
The Z series also allows usage of various containers, but instead of a mounting bracket on the back it has an adjustable stainless steel bridge that can be extended sideways from 35 cm to 68 cm. This makes it possible to use gastronomy containers from GN 1/2 200 mm (13 l) up to size GN 2/1 200 mm (58 l); it can also be used on any other suitable receptacle. Special rubber nubs on the stainless steel bridge ensure slip-resistant positioning on the container edge. It can also be used in recessed water baths, with the rubber nubs also ensuring secure positioning in this case.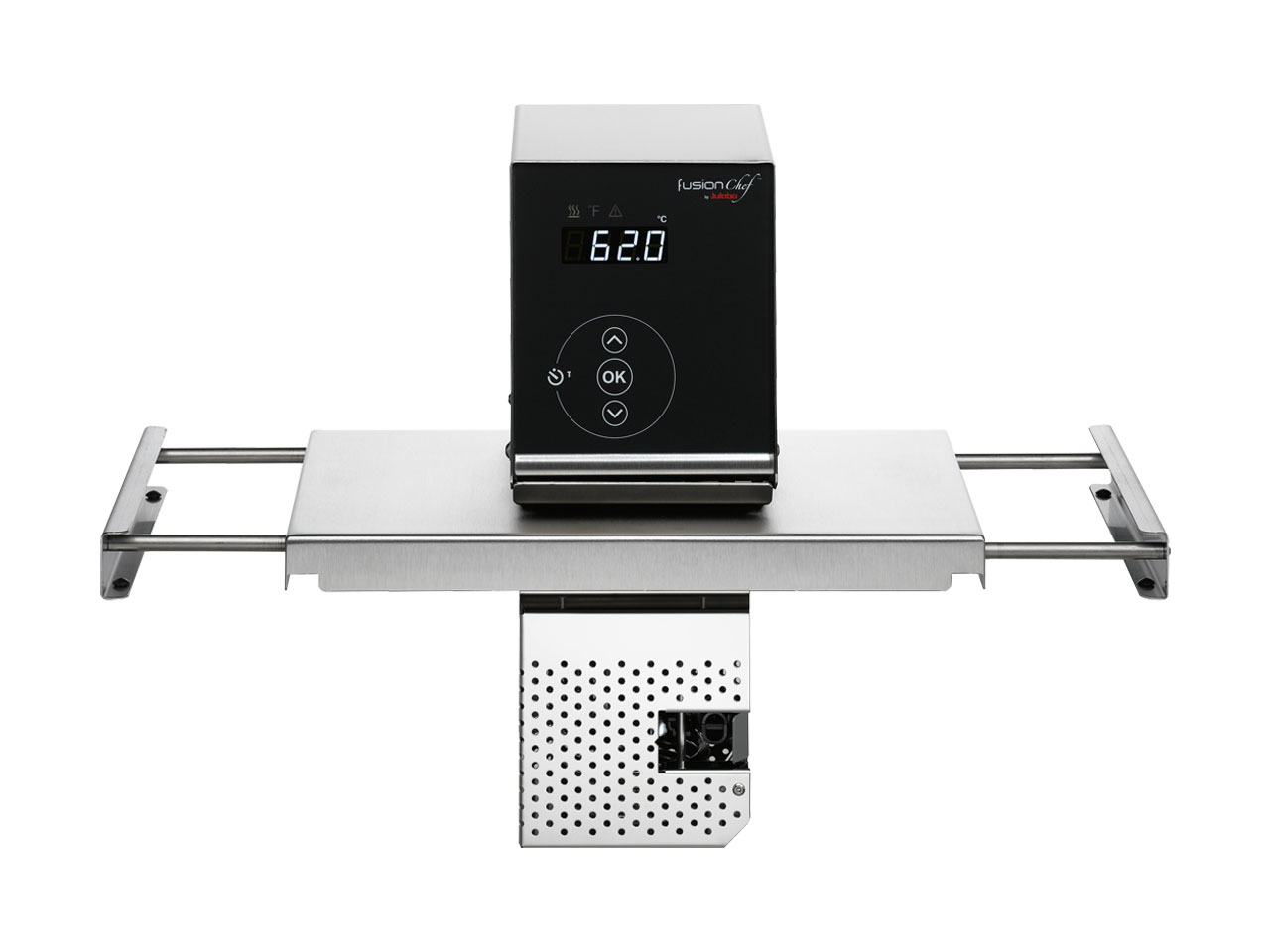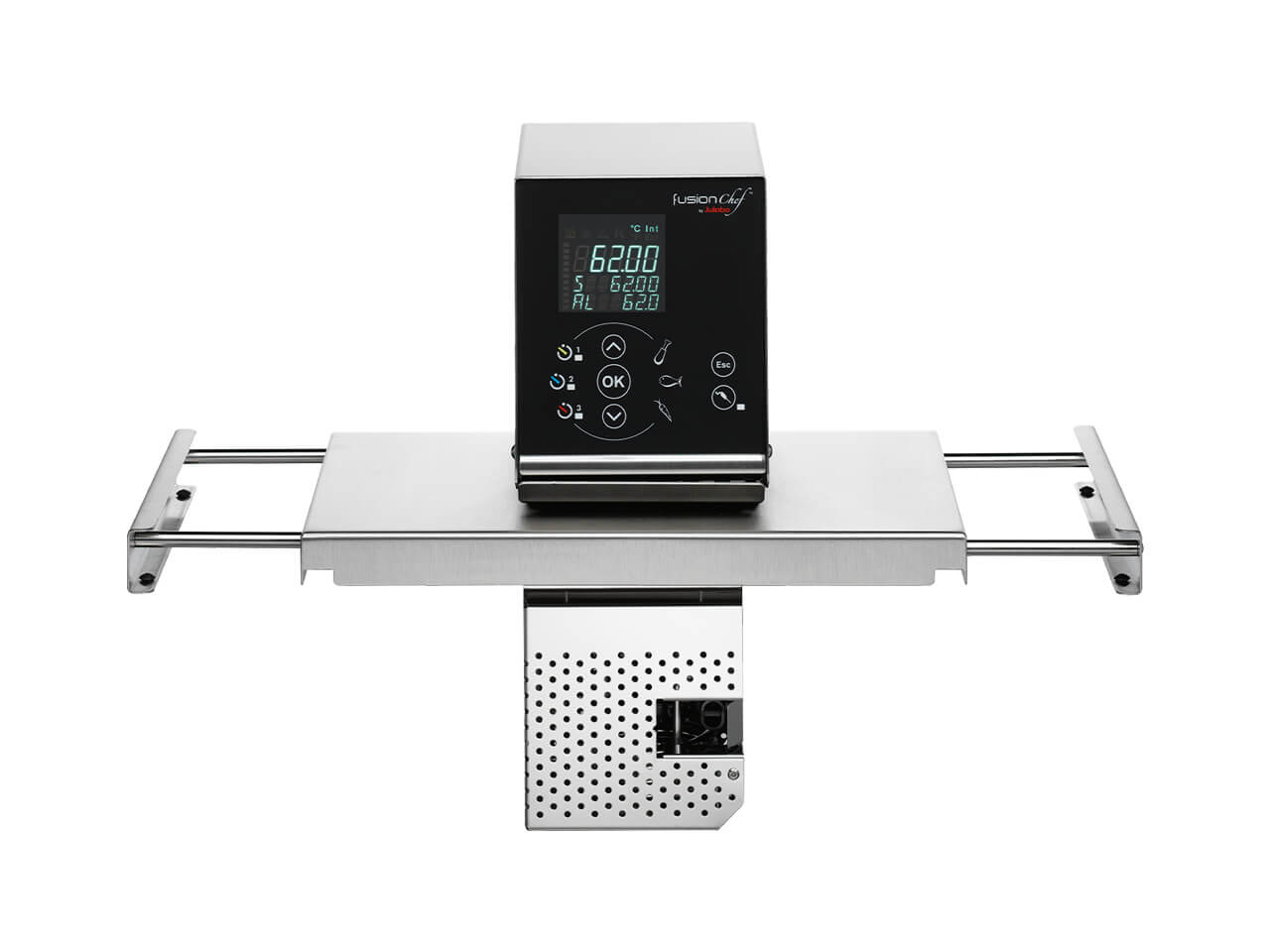 ---
The fusionchef models XS, S, M, L and XL are respectively delivered as compact sets consisting of a matching stainless steel bridge, mounted heating immersion circulator, bath tank and matching lid. The individual stainless steel bath tanks are thermally insulated by their jacketed design, which leads to significantly lower operating costs due to less dissipated heat. This advantage is supported by the bath lid that, like the stainless steel bridge of the heating unit, also has an all-around rubber seal. The closed construction design significantly reduces water loss through evaporation. This is particularly important for slow and long time cooked dishes so that undesired switching off of circulators due to low water level is avoided. In addition to this, less steam and heat is released into the kitchen, leading to a much more comfortable indoor climate.
Two robust handles on the bath tank make safe handling possible, a drain tap enables easy water exchange and cleaning. In addition to this, there are also comprehensive accessories such as separation grids, retaining grids, iSi gourmet clamps etc. available, which are offered to match each of the various bath tank sizes.
Size overview of the Diamond series: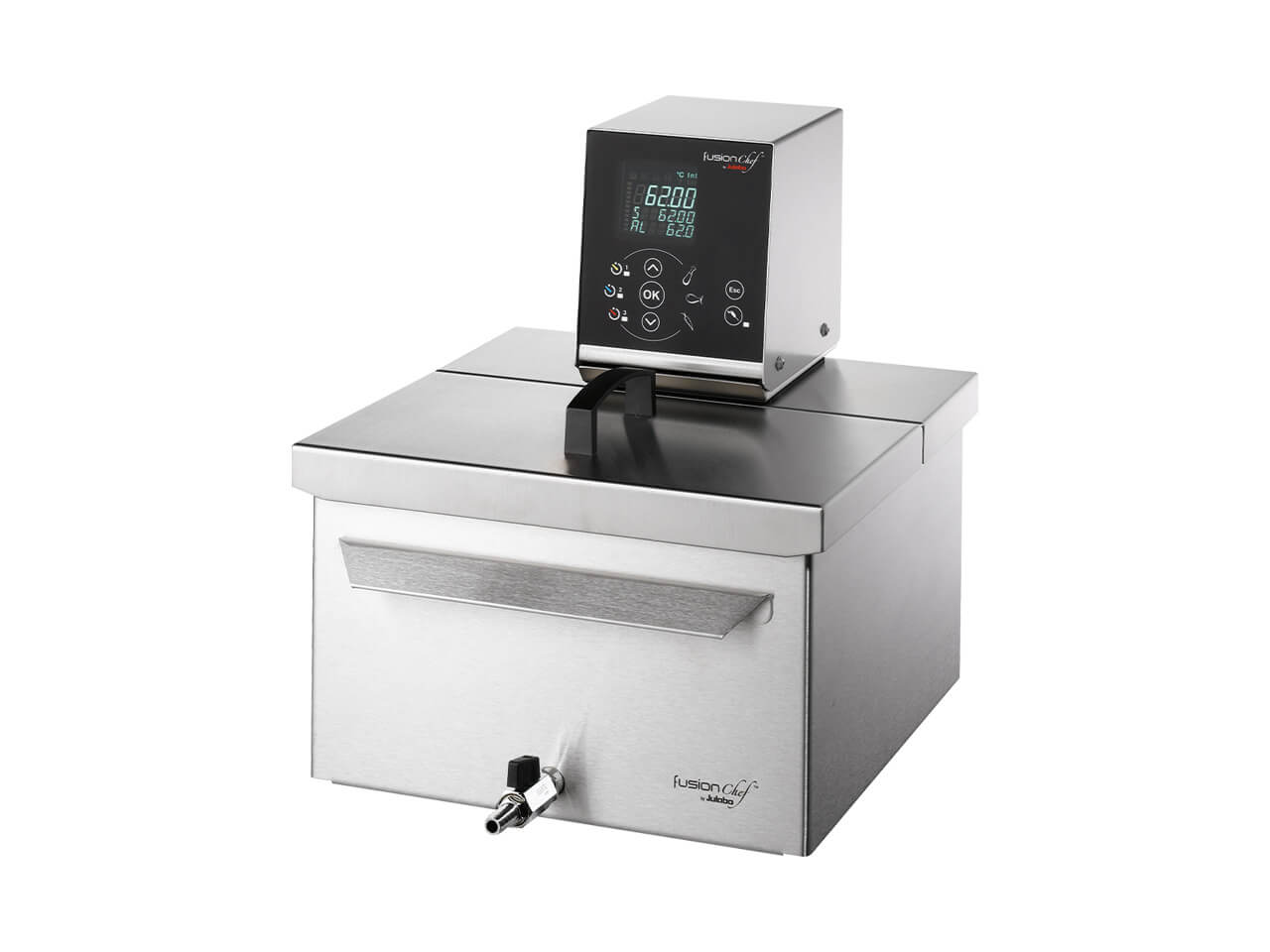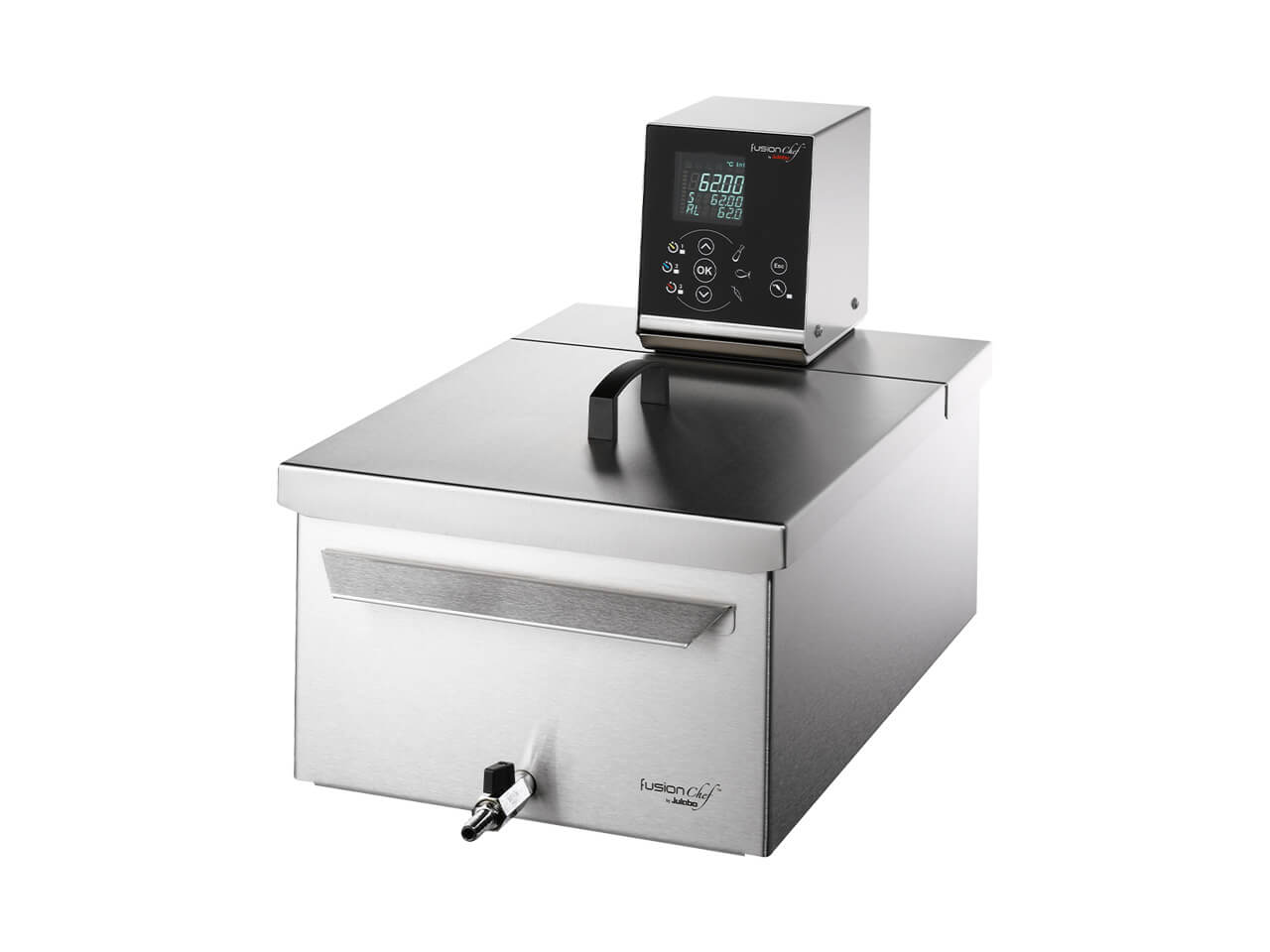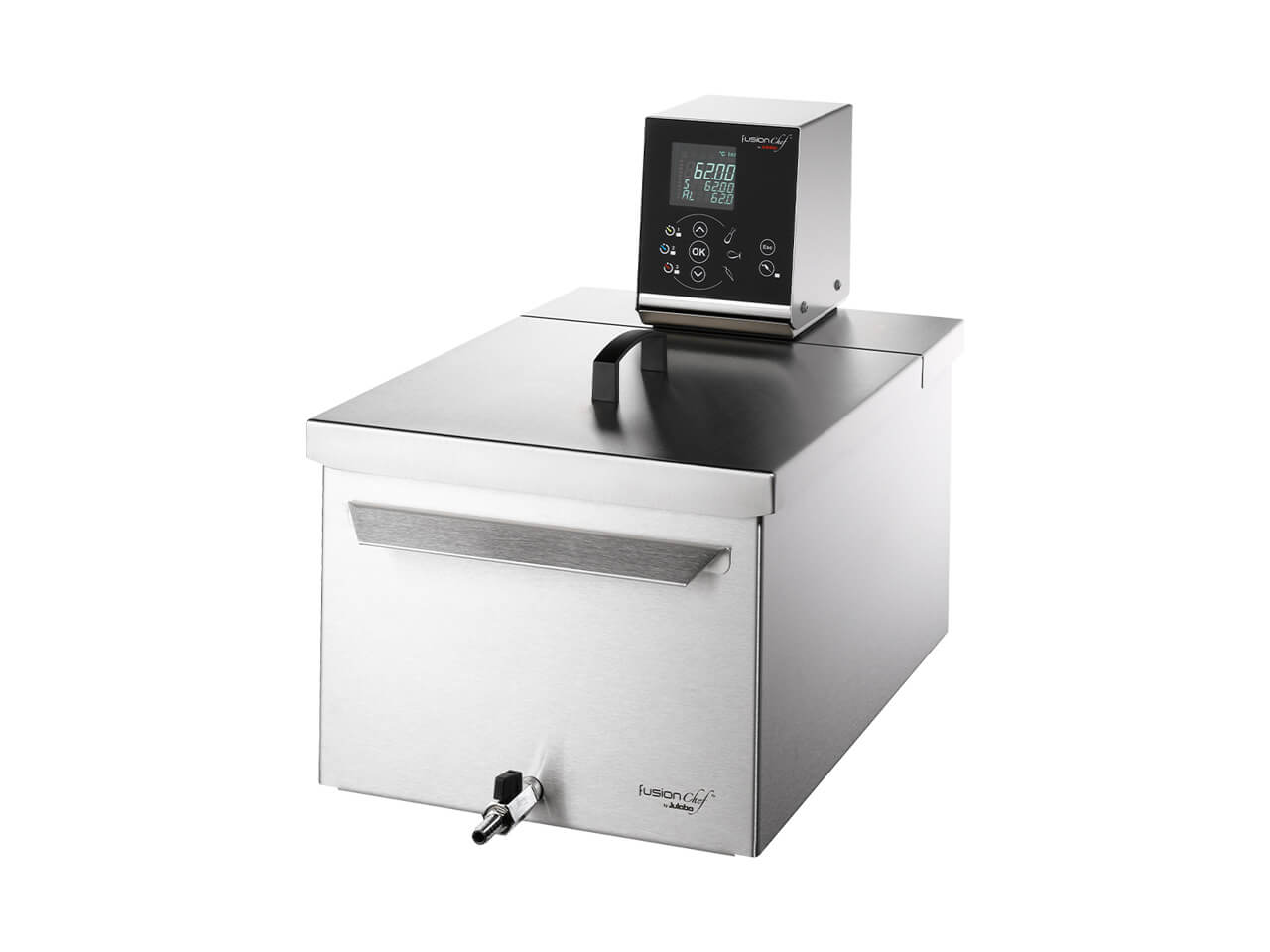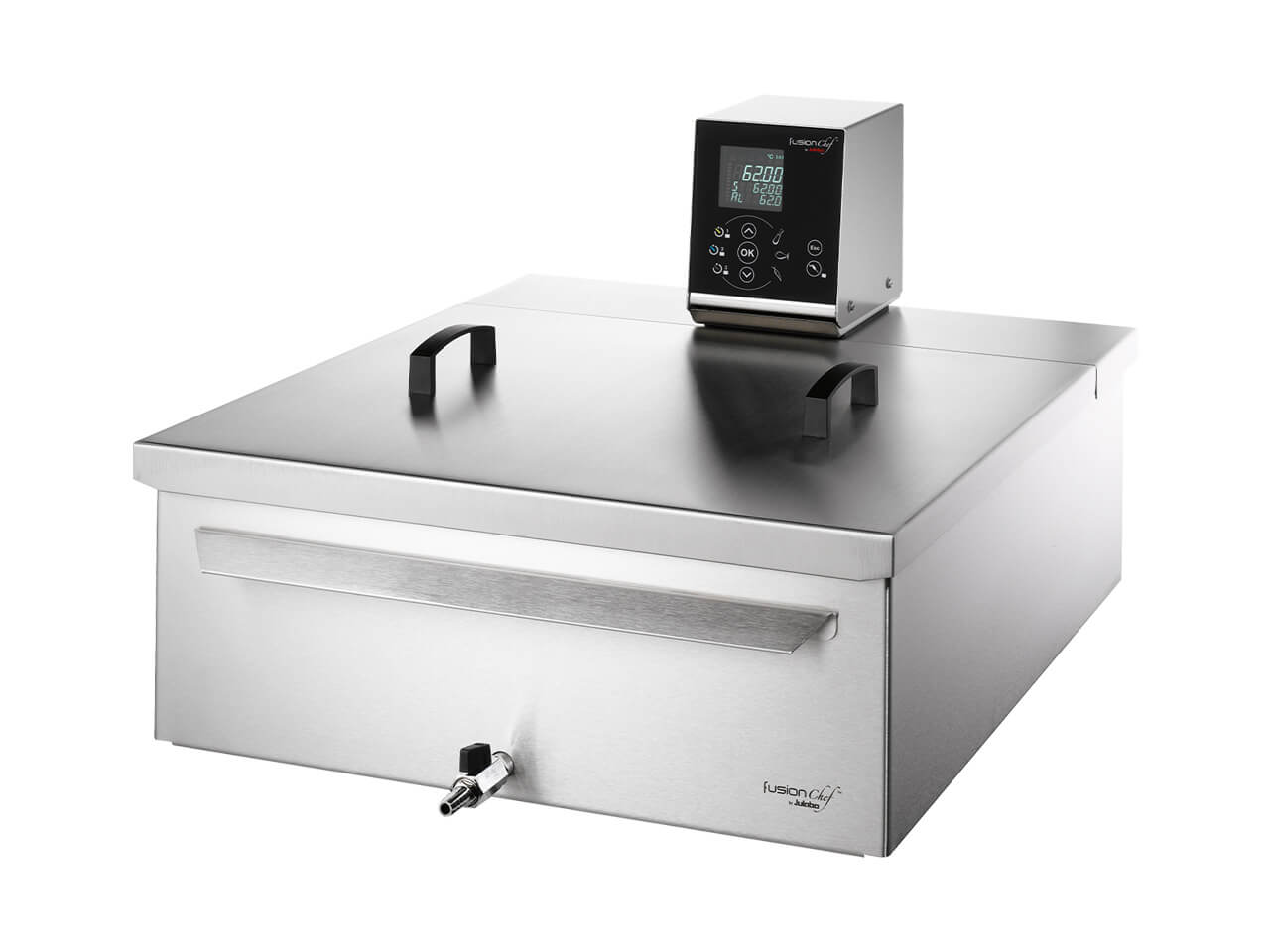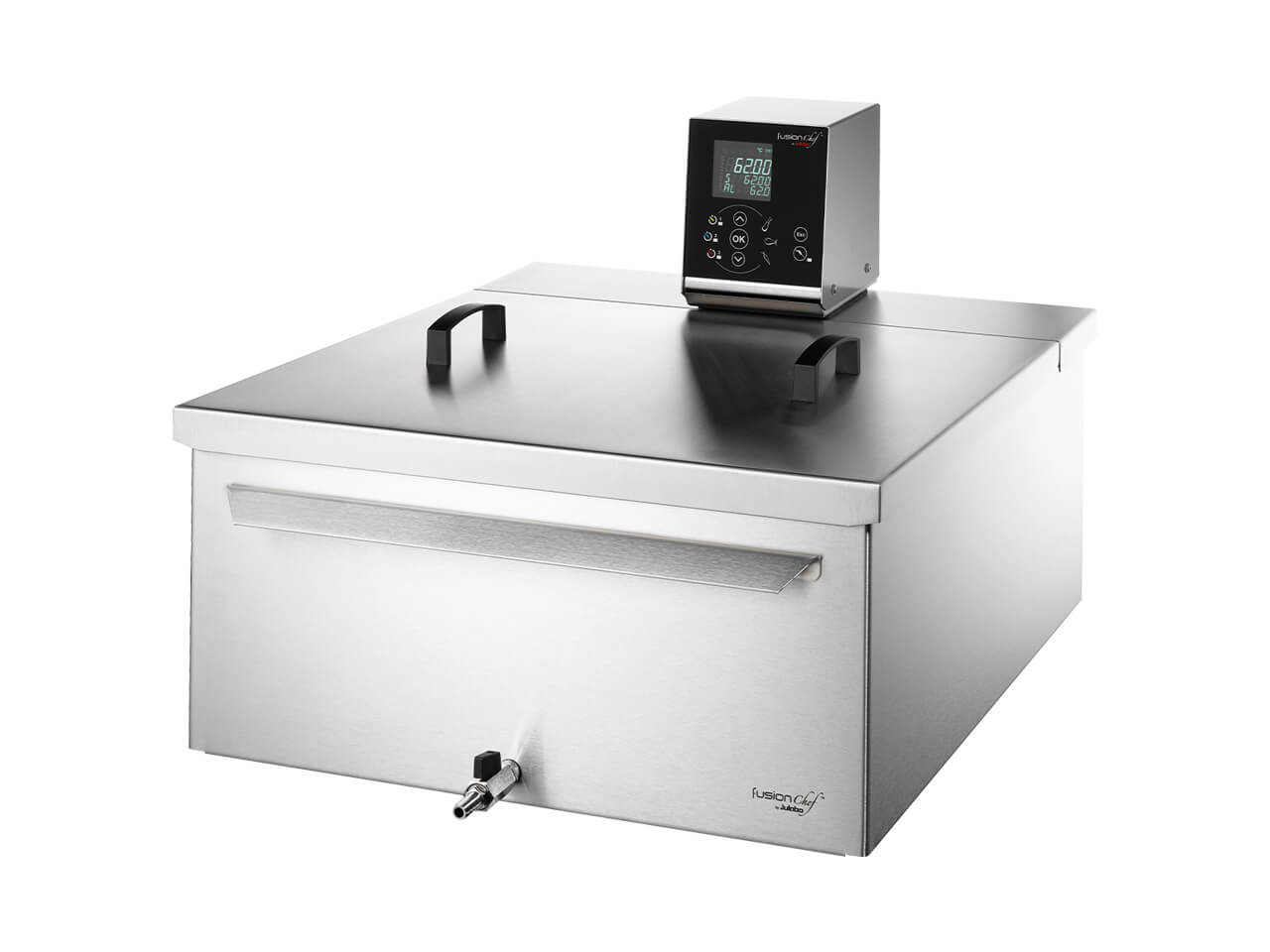 The pictured sizes are also available for the Pearl series.
All fusionchef Sous Vide cookers have two things in common regardless of their size and model series: The strong heating capacity of 2,000 watt at 230 volt and a high-performance circulating pump that is capable of circulating 14 liters of water per minute. This ensures that there are adequate reserves if a lot of cold food is placed in at once and makes reliable results possible for typical à la carte businesses. The powerful water circulation guarantees uniform temperature distribution throughout the entire bath tank.
The stainless steel bridges of the XS, S and M models are mechanically identical, as are those of the L and XL models. This makes it possible to purchase another larger or smaller bath tank with a volume that suits a different situation. In this situation, nothing needs to be set differently on the device as the intelligent control electronics automatically and optimally adapts to the relevant water and food volumes.
---
Pearl or Diamond?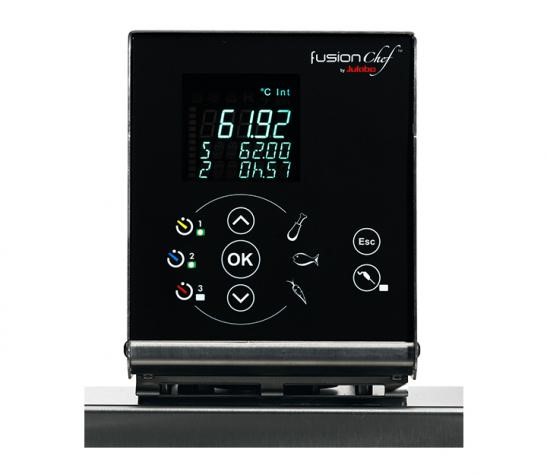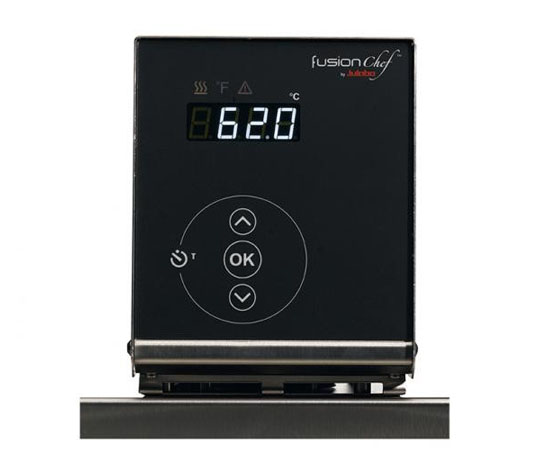 It should be noted up front that there is no difference between the two series when it comes to quality or performance. The only difference is in the features and scope of services, which is tailored to the differing requirements of professional users.
The Pearl series offers all the base functionalities that are required for successful work with Sous Vide. With excellent temperature stability of +/- 0.03 °C, you remain in the range that absolutely guarantees reproducible results, even with very "critical" food. The integrated single timer is adequate for working with foods that do not require different cooking times. The intuitive, clearly arranged keypad is also easy to understand for personnel who have no experience using the device or who are only employed on a temporary basis.
With a model from the Pearl series you can hardly go wrong; they are the reliable workhorses of fusionchef, fitted with all the required basic functions while also offering an economical purchase price.
The Diamond models offer an extended range of functions with three separately programable timers, memory buttons for commonly used temperatures and dishes, as well as a larger display that can show more information at the same time. In addition to this, there is also the possibility to connect an optional core temperature sensor as well as a PC interface. This interface and the PC software Easy fusionchef makes remote control of up to 24 Diamond units possible. This can be used for simultaneous and convenient starting time programming, for example to ensure that the water is already heated up to the required temperature at the start of a shift without needing to leave the units running overnight. HACCP-compliant data storage and analysis can also be carried out easily. The software functionality is also perfect for recipe development and training purposes. In addition to excellent temperature stability of +/- 0.01 °C, the Diamond series also offers the option of user-defined self calibration.
A Diamond model is always the best choice if you need to work with core temperature measurement, data storage is required in accordance with HACCP or quick calling up of pre-programmed cooking times and cooking temperatures is required. The enormous range of functions in the Diamond series leaves nothing to be desired and offers creative chefs with plenty of options for the optimization of their results and processes.