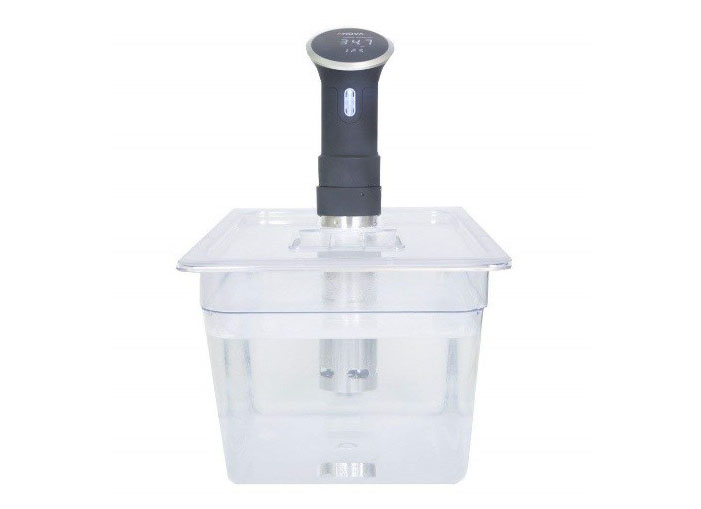 A large variety of Sous Vide cookers are now available on the market. This doesn't make it any easier to keep an overview and find the perfect device that is best suited to your requirements.
If you have already been convinced of the advantages of fusionchef, but are perhaps still unsure which of the currently 14 models is the best for you, then you can find information here to help you select the perfect device.
If you are still deciding whether you want a Sous Vide cooker from fusionchef, then we would like to share the many advantages of a fusionchef cooker and win you over.
Let's start with our smaller target market, private amateur chefs. Here the requirements are relatively simple: If you only want to cook Sous Vide sporadically, at most making simple dishes for a small family every now and again, then, if we're being pragmatic, you can basically make do with a very economical "Sous Vide stick" to hang in a tall pot. For smaller quantities and with certain limitations when it comes to heating speed, temperature stability and uniform temperature distribution in the water bath, you can achieve quite acceptable results with this method.
However, it's clear that these Sous Vide sticks, with starting prices around the double digit euro range, are neither designed for regular use nor are they a feast for the eyes as they hang precariously in a cooking pot and bother you with their generally unpleasantly loud noise levels. An ambitious hobby chef, who generally also has high-quality kitchen appliances, is unlikely to be satisfied with this solution for long, and will soon find themselves looking for a better solution.
Wouldn't it be better to buy the right thing the first time than make two purchases that are more expensive in the end?
Professional users also need more professional equipment. Devices that are intended and designed for private home use are totally unsuited for daily use in gastronomy. They neither provide the required heating and circulation performance nor can they endure being in long-term and permanent use. This device category is therefore out of the question for professional chefs.
Sous Vide cookers without a circulation pump have the advantage that they generate no operating noise due to the lack of a pump unit. This initially sounds like a good thing, and the purchase price is generally lower than a Sous Vide cooker with active circulation due to the more simple technology. However, devices with a high-performance circulating pump, like those that all fusionchef models include, offer clear advantages when it comes to performance, heating speed and quick and precise temperature regulation when putting or adding in food. The main thing, however, is that active circulation ensures uniform temperature distribution throughout the bath tank, which is a major problem for devices without a pump or with a less powerful pump. The more food is in the bath tank, the more pronounced the difference is because it impairs the thermal convection and flow. The results: uneven cooking of the individual items of food. With larger pieces this can mean that they should be ready after the specified cooking time but are not yet sufficiently cooked through as they were in areas with poor water circulation. This is particularly irritating as it is usually only noticed during slicing and portioning – by which time it is too late.
How pronounced the differences in circulation and temperature distribution actually are in practice, when comparing a fusionchef Sous Vide cooker with a standard Sous Vide stick and a Sous Vide cooker without circulating pump, can be seen here in three short video clips that show thermographic recordings.
All fusionchef Sous Vide cookers are based on decades of JULABO laboratory technology experience. Development of the Pearl and Diamond product ranges, as well as the range of available accessories, was carried out in close cooperation with professional star-rated and top-class chefs. The result is a sophisticated device series for professional kitchens, which offers a suitable and economical solution to match every requirement.
User-friendliness, ease of cleaning, low operating costs and durability are all important factors when it comes to the purchase of a new business asset. It is very little use to a professional kitchen if money is saved on the initial purchase but electricity costs rise by around 165 euro* in the first year. After all, over 10 years this adds up to a significant increase of 1,650 euro more operating costs. In practice this will probably end up being more, as electricity prices are unlikely to go down.
The same thing applies to ease of operation and the ability to clean the device easily and quickly. With fusionchef Sous Vide cookers, all water-contacting parts are easy to access and clean thanks to a lack of hidden corners. The protection grid, particle filter, bath tank and lid are made of stainless steel and can simply be cleaned in the dishwasher. This also applies to the separation and retaining grids from the accessories. This saves on personnel costs and makes additional time available that can be used profitably elsewhere.
fusionchef Sous Vide cookers are completely manufactured in Germany. They are designed for durability and continuous daily use in a demanding kitchen environment. All devices also comply with international standards and are regularly tested and certified by independent institutes. Also in the introduction of new production processes and process technologies as well as with all other investments, we consistently observe the environmental aspect and focus on renewable raw materials, which ensure efficient energy supply. JULABO only uses materials which meet the statutory requirements of the "RoHS" EC Directive. If, despite this, something does break after a long period of use, you will still be able to receive all accessories and spare parts up to 10 years in the future, and can rely on excellent worldwide service from fusionchef by Julabo.
The two-stage low-level water alarm on all fusionchef devices gives operating personnel a timely notification, both visually and acoustically, that water must be topped up, before triggering the safety cut-off due to lack of water. The alarm avoids undesirable interruptions to the cooking process. On devices in the Diamond series, this can even be centrally monitored using the integrated interface and the optional Easy fusionchef software.
An extensive range of accessories, with many practical system extensions, means that fusionchef makes working with Sous Vide even easier and more efficient. A number of accessories are compatible with both the Pearl and Diamond device series, as well as with various bath tank sizes. This allows simple and needs-based interchangeability as well as avoiding unnecessary duplicate purchases.
Sous Vide cookers from fusionchef are therefore the perfect economical solution for all professional users who want to impress their guests day after day with the best possible quality!
Interesting and practical information can be found in this comprehensive application report about the Diamond XS and S models, which was published by www.tech-journalist.de.
*Comparison of a Diamond S with insulated bath tank and lid at 65 °C bath temperature, 10 hours of operating time per day and 300 usage days, when compared to a large, open GN container and Sous Vide stick. Assumed electricity price 0.30 EUR per kW/h.